Welcome to Raising Playful Tots- an Early Childhood Podcast for mums who want to make the most of their playtime with their under 5 children.
I've shared the top interviews on Early Childhood Education for Raising Playful Tots for 2012 that you loved. If you missed them pop on over and have a listen to some.  Today I'm sharing my favourite show as part of the Best of 2012 bloghop. Just one only………. now this was hard.
I've chosen  Show 86 with NurtureShock co author Ashley Merryman;
It's never too late to start creating Christmas memories. With new siblings, new homes and various ages in the family we'll often find we'll need to adapt or completely change ideas.
Christmas traditions once taken on don't have to remain and the beauty is if you see new, relevant or exciting things we should try them out.
When we look at our Christmas traditions we may feel they won't be creating as many memories as we thought. Today's a chance to think again, adjust and try some new Christmas ideas so we can be about the business of creating memories.
It's easy to be  swept way with all the different things you can do at Christmas time so let's walk through a few stages to get to the memory making without overwhelming but fitting in with our family.
Edited: This Thanksgiving weekend offer is now closed. Thanks so much for your interest.
The individual books are still for sale – please click through on the links below to make your purchases directly from the authors' blogs.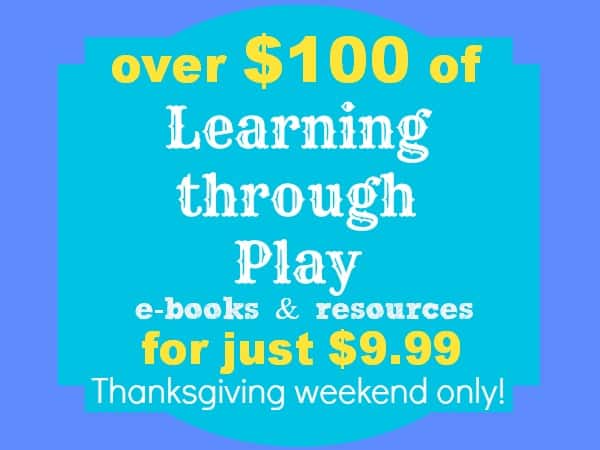 I have something so super to tell you about today! Cathy of Nurturestore and I have been working with some of our favourite bloggers and authors to bring you an amazing Thanksgiving weekend special offer.
We have put together a package worth over $100 – but available to you at a very special price – of e-books and resources, all based around Learning Through Play. This Thanksgiving weekend special offer includes books on sensory play, outdoor play, art and crafts, positive parenting, learning to read and write and lots more. You'll recognise the authors as the writers of some of your favourite blogs – check out the full details below to see who's joining in.
Thanksgiving weekend special offer